People Brand
Why should I work for you?
Compete for Talent with your Purpose
You have a great answer for that simple question, right? "Why should I work for you?" Unless everyone in your organization answers the same way you've got an opportunity to improve your People Brand.
People Brand is the brand for your employment, much like your organization has an overall consumer brand. Every company has a People Brand, whether it's proactively managed or not.
A People Brand isn't just for big companies, it's for the smart companies. They're for the companies that care about competing for great talent.
Employers can't be all things to all people. Too many HR professionals are focused on the wrong thing. The question isn't "are you a best place to work?" The question is "are you a best place to work for me?" (me isn't everyone, it's your target market!)
We believe a great People Brand begins with strategically understanding the organization, what it stands for, and helping align business and talent. Our proprietary People Brand Blueprint helps organizations build a congruent brand strategy, candidate experience, brand identity, and message.
Your organization can do better.
Building a People Brand strategy doesn't need to be hard or complicated; and we've built a simple process to get the conversation going and begin as the foundation. We go back to the "why" of your organization, and we begin with identifying your Purpose Archetype™.
Archetypes are symbols or motifs in literature, art, or mythology based upon human behavior. They have been used for hundreds of years to describe people, and have long been used in branding to help communicate story and build the character of brands.
We use "Purpose Archetypes" as a foundation to help develop your People Brand. These archetypes are one part of a multi-dimensional approach we utilize to build a People Brand with our clients – and you can start right now.
Purpose Archetypes
| | | | |
| --- | --- | --- | --- |
| Adventurer | Entertainer | Lifeboat | Rebel |
| Beacon | Essentialist | Matchmaker | Satisfied |
| Bureaucrat | Guardian | Mentor | Soldier |
| Challenger | Guru | Nurturer | Stimulator |
| Cornerstone | Hero/Heroine | Opportunist | Traditionalist |
| Creator | Imaginist | Purist | Trailblazer |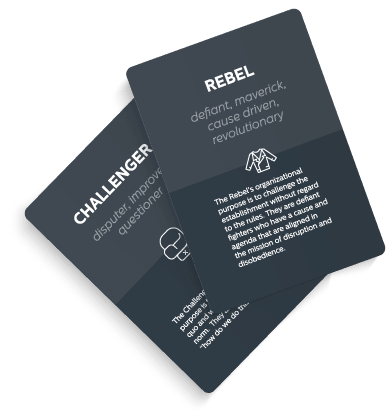 Get Started
We've built a beautiful card deck with our 24 organizational Purpose Archetypes that we use as the foundation for your People Brand. We've created a simple game you can play with your coworkers to identify and begin discussion about who you are as an organization.
You can utilize these cards in your own process, working with your agency, or working with us. We have a dream that all employees can find a job they love, and by opening up this tool to more companies we believe we'll make more workplaces better. And isn't that the point?
Get your free Purpose Archetype Deck
Limited time: To get your deck for free, just contact us and we'll get one out to you in the mail if you're a qualified HR or employment branding professional located in North America. It's that easy.