Rural Hospital Highlights its Location To Attract Candidates Nationwide
On the western slope of Colorado, in a rural city of only 6,000 residents, you will find Gunnison Valley Health—a critical access hospital and health system dedicated to serving its beloved community. Nestled within a small and secluded community, the local healthcare candidate pool for Gunnison Valley Health is limited. For that reason, the hospital reaches out beyond its state and regional borders to attract the right and best healthcare professionals to its community.
When Gunnison Valley Health first began recruiting nationwide, new challenges unfortunately arose. Although the hospital's rural location has an abundance of natural attractions and incredible appeal, persuading candidates to relocate for work was problematic. Eventually, Director of Human Resources Christina Lovelace turned to Recruiting.com in hopes of launching a career site that would empower her recruiting results.
Here are some of the changes Recruiting.com implemented to make the transition effective:
Leveraging the Unique Location
The healthcare industry is highly competitive, so competing for top talent was a serious predicament for Gunnison Valley Health. With small and large hospitals all over the country vying for top talent, winning the competition—especially based on employee benefits alone—was troublesome.
Working with Gunnison Valley Health's team, Recruiting.com identified what makes the hospital unique. Part of the answer was undoubtedly its rural location. Gunnison, Colorado is a beautiful, natural and truly unique location that is ideal for people with active lifestyles. To showcase the location's intiruging chracteristics, Recruiting.com created a specific "Living in Gunnison Valley" page on the career site that describes the area. The team also highlighted the hospital's employees' and community members' specific values, such as being healthy, independent, and engaging in outdoor activities.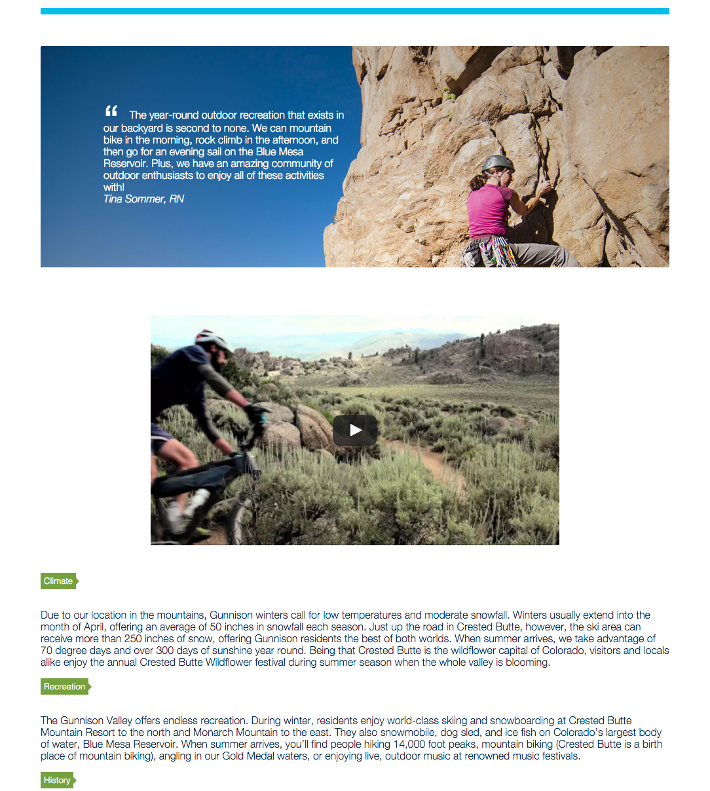 Why it worked: Leveraging Gunnison Valley Health's unique location enables the health system to stand out from its competitors. The career site's "Living in Gunnison Valley" page is one of its top five most visited pages, meaning that more job seekers around the country are discovering what makes Gunnison Valley Health different from other hospitals. This is encouraging several more ideal candidates from various states to apply, including outdoor enthusiasts and nature-lovers.
Consequently, the career site now acts as an online recruiter working 24/7 to attract and engage healthcare candidates who love the outdoors. "Now most of our candidates want to work here because we're not just your typical health system. They understand that we have something special to offer," Lovelace explains.
Incorporating Enticing Visual Elements
Especially because Gunnison Valley Health recruits nationwide, it's imperative that the hospital allows job seekers to experience the community and workplace without needing to visit. While the company's initial career site incorporated some visuals, Recruiting.com brought Gunnison Valley Health and its surrounding community to life by producing professional videos of the hospital and its surrounding landscape. The team incorporated the videos and images throughout the career site so that job seekers could experience the environment and health system in a more powerful and engaging way.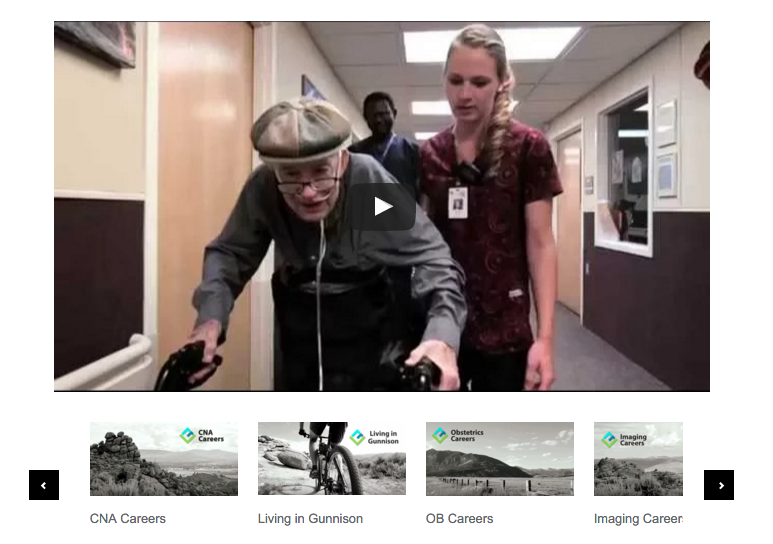 Why it worked: The career site's current images and videos highlight Gunnison's natural environment, the vast mountain ranges surrounding the area, and the hospital's beautifully maintained buildings. The videos also give website visitors exceptional insight into what it's like to live within the community and work in the hospital. These intriguing videos are persuading visitors to stay on the site longer and learn more about Gunnison Valley Health's jobs. As a result, the hospital has increased the average amount of time a visitor spends on the career site by 5 percent.
Now that job seekers can easily visualize and engage with these environments, distant job seekers who are willing to relocate to rural areas are visiting the site and applying. In fact, approximately 75 percent of the career site's visitors are located at least an hour away from the hospital. The career site even attracts compatible, qualified job seekers from across the country, including one east coast job seeker who is a self-proclaimed "outdoors enthusiast with a passion for backcountry camping, skiing, and trail running."
"The career site videos answer several of my candidates' initial questions about working in Gunnison, which saves me time on interviews. They also discourage job seekers who don't like rural areas from applying, and motivate the ones who love natural environments to fight for our positions."
Recruiting More Qualified Candidates
Some of Gunnison Valley Health's positions are more challenging to fill than others, as they require technical education in specialized areas and knowledge that is difficult to provide with on-the-job training. So understandably, the hospital was eager to attract more qualified candidates to these hard-to-fill positions.
With enticing content like the "Featured Job" section and videos created by Recruiting.com, the new career site is able to highlight these hard-to-fill positions in individualized and interactive ways. Career site visitors can hear from some of Gunnison Valley Health's best employees and learn why they love their jobs as well as their lives outside of work.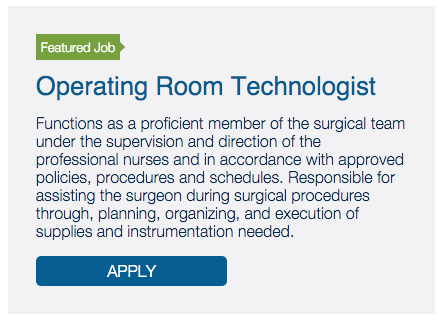 Why it worked:Now that the hospital's hard-to-fill positions are more prevalent on its career site, more job seekers are discovering them. In fact, Gunnison Valley Health's technical jobs are getting approximately 60 percent more views. Consequently, Gunnison Valley Health is receiving more qualified applicants than ever before. "Being able to recruit and hire more qualified candidates saves our organization time and money," Lovelace explains. "We no longer waste time reviewing as many unqualified resumes, and we find the right candidates faster and easier."
The End Result
Gunnison Valley Health's new career site is visually compelling and especially insightful, allowing job seekers to fully experience and engage with the hospital's unique features and rural community.
And thanks to Gunnison Valley Health's updated and focused employment brand, all of the content on the career site speaks directly to the company's specific target audience: healthcare job seekers who are passionate about being active and spending time outdoors. The strategic and SEO-friendly employment brand messaging has increased the site's organic traffic by 52 percent, and it's allowing more of Gunnison Valley Health's ideal candidates to find and apply to its jobs.
Today, more professionals are moving to Gunnison, Colorado to work for the health system, enjoy its natural environment, and surround themselves with likeminded individuals. Lovelace is thrilled that the career site is attracting more ideal applicants, and the team at Gunnison Valley Health is benefiting as a result.
Want to see it for yourself? Check out the career site for Gunnison Valley Health.
---
Request a call from Recruiting.com