Hiring for Growth at a Large Furniture Retailer
To be successful in the retail industry, world-class customer service and quality products are not mutually exclusive. Instead, it's a combination of the people who represent the products that make all the difference. In an industry that's often plagued with high attrition rates, hiring for a cultural fit is imperative to retaining top talent.
The philosophy behind City Furniture has always been to provide customers with great value, both in terms of quality and cost. This, together with the company's strong entrepreneurial edge and family spirit, has led City Furniture along a path of incredible achievements.
Since opening its doors, City Furniture has continued to expand throughout South Florida. Today the retailer has over 1,000 employees across 20+ showrooms operating under both the City Furniture and Ashley Furniture brand. remained consistent despite its rapid expansion and growth..
To keep up with their growth without sacrificing the customer-centric reputation they worked so hard to build, City Furniture knew an elevated recruiting strategy had to be prioritized. "If we don't hire the right person, it can impact our revenue, turnover, morale, and the culture of our organization," states Janet Wincko, Vice President of Human Resources.
Here are some of the changes Recruiting.com implemented to make the transition effective:
Ending Reliance on Internal Marketing Teams
City Furniture quickly realized that by strengthening key parts of their hiring strategy, they could effectively target the talent needed for future growth. So the team decided that step one would be re-launch the online City Furniture career site and create new recruiting materials. But they quickly faced a challenge: the internal marketing department was too busy with consumer-based projects to help and the company would have to wait months to see any progress. Having done business with the Recruiting.com team, Wincko turned to the career site experts to help create a world-class site to complement their world-class culture.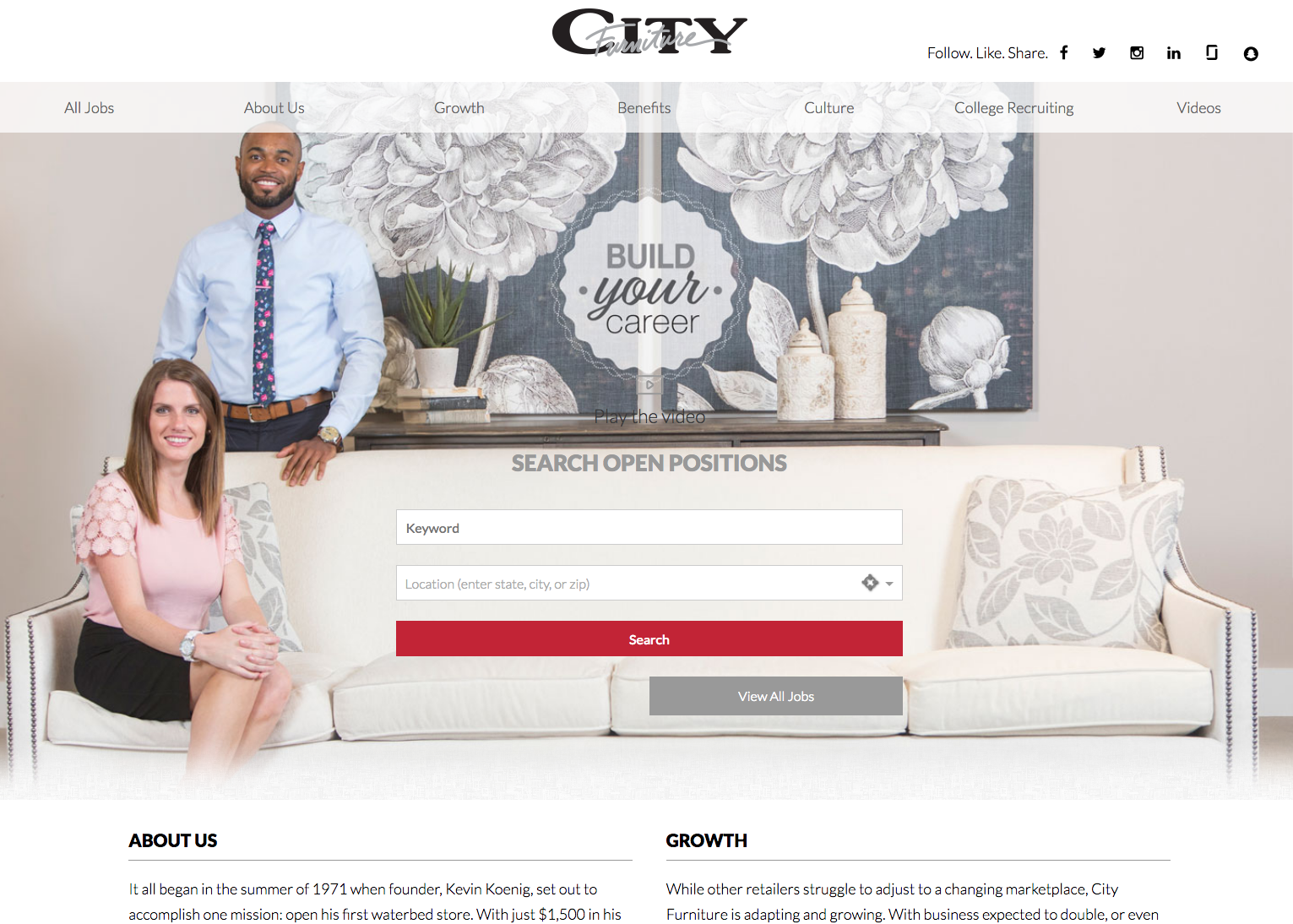 Why it worked: Wincko knew if there was anyone who could help carry out her ideas, it was Recruiting.com. "Our partnership is very collaborative and continues to evolve with time," she says. By working together, Recruiting.com was able to take the stress off their internal marketing team and deliver a custom career site in record time so they could start recruiting top talent right away.
Reaching More Prospects
As a family-spirited company, City Furniture believes in world-class service and an engaging environment for not only their customer but their employees too. By leveraging the optimized site structure and keyword-rich content, the City Furniture can now effectively reach more prospects who are searching for relevant terms.
Why it worked: City Furniture knew the qualities they were looking for in a candidate; the real problem was finding them. By creating a career site optimized for strategic keywords and with targeted messaging, City Furniture was able to expand their reach—increasing both their organic and overall search traffic.
Engaging Targeted Audiences
For Wincko, cultural fit was a top priority. She actively sought out candidates that shared the same values and beliefs as City Furniture. To accomplish this, Recruiting.com helped the retailer engage the right candidates for the right positions. By working closely with Recruiting.com, City Furniture was able to not only develop and launch a brand new career site but also optimize their recruiting with the ultimate storytelling tool — video.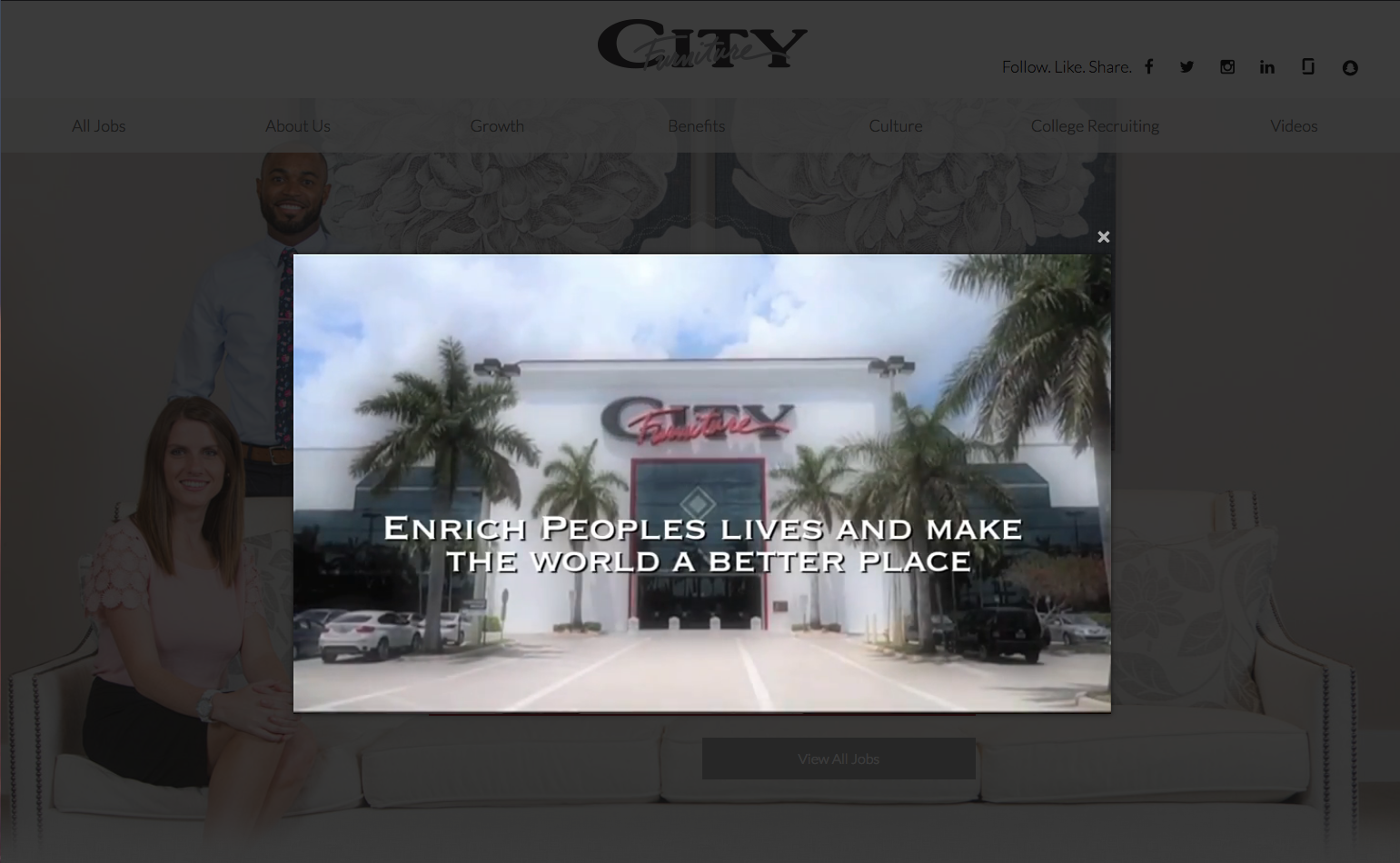 Why it worked: SCity Furniture's new employment videos help keep the right candidates engaged and on the site longer, causing visitor bounce rate to decrease by 31 percent. Wincko says without the help of Recruiting.com, their marketing efforts would be much different, "We know the City Furniture story, but we don't necessarily know how to translate that into what the job seeker is looking for. When partnering with Recruiting.com, where recruiting is their world, they help us translate our story into a message that speaks to our ideal candidates."
Want to see it for yourself? Check out the career site for City Furniture.
---
Request a call from Recruiting.com