Growing Healthcare Organization Uses Technology to Scale Recruiting
Without healthy joints or muscles, simple tasks such as getting out of bed can be dreadful and even debilitating for most individuals. Understanding that far too many people suffer daily from aches and pains is why OrthoArizona is committed to offering the highest level of orthopedic care.
In 2014, OrthoArizona sought to grow its team in order to support its expanding specialized practices and care for more patients. While pursuing its goal to recruit more employees, the company discovered that its website was limiting its recruitment capabilities. Job seekers were unable to find OrthoArizona's available job positions on its website, and submitting an application through the site was not even a possibility. Hilda Roy, Human Resources Director at OrthoArizona, reached out to Recruiting.com in an effort to find a solution that would effectively support the business' growing staffing needs.
As part of its solution to attract top talent, Recruiting.com designed and launched a career site for OrthoArizona that accumulated thousands of job applications from qualified candidates. Today, many of these applicants are now successful and engaged employees at OrthoArizona.
The Recruiting.com site also provided OrthoArizona administrators with access to its unique Candidate Relationship Management (CRM) web-based software. The CRM allows the administrators to upload and edit job postings, review applicants, and track their interactions with them all in the same place. This easy-to-use tool simplified OrthoArizona's recruitment practices and resolved many of its challenges.
Here are some of the changes Recruiting.com implemented to make the transition effective:
Presenting The Unique Value Proposition
When job seekers find a job that offers amazing employee benefits, it dramatically increases their chances of applying. So once Recruiting.com learned that OrthoArizona offers the same exceptional benefits as most large healthcare organizations do–even though its divisions are relatively small in comparison–the team knew this information could be used to attract top talent.
So in order to inform and influence job seekers, Recruiting.com featured OrthoArizona's employee benefits on the career site. This includes intrinsic benefits like professional growth opportunities as well as monetary benefits, like a 401k plan and a health savings account.
Why it worked: Especially because most small orthopedic practices don't offer substantial employee benefits, featuring OrthoArizona's generous benefits on the career site enabled the company to differentiate itself and stand out amongst its competitors. In addition, studies show that "growth opportunities" is the fifth largest influence in a job seeker's decision to take a job. By using the career site to illustrate OrthoArizona's commitment to and passion for professional growth, Recruiting.com helped the business appeal to more job seekers.
One Centralized Career Platform
Each of OrthoArizona's 25 medical practices and 40 buildings recruit independently, so they manage their own recruiting practices and job postings. As a result, OrthoArizona could not display all of the company's job postings in one place. This prevented job seekers (and company administrators) from easily seeing which jobs were available at which locations.
To consolidate the job postings, Recruiting.com listed all of the available jobs for every location on OrthoArizona's career site. Recruiting.com also gave administrators at each location access to the CRM so that they could all log into the same place to upload job postings and review applications.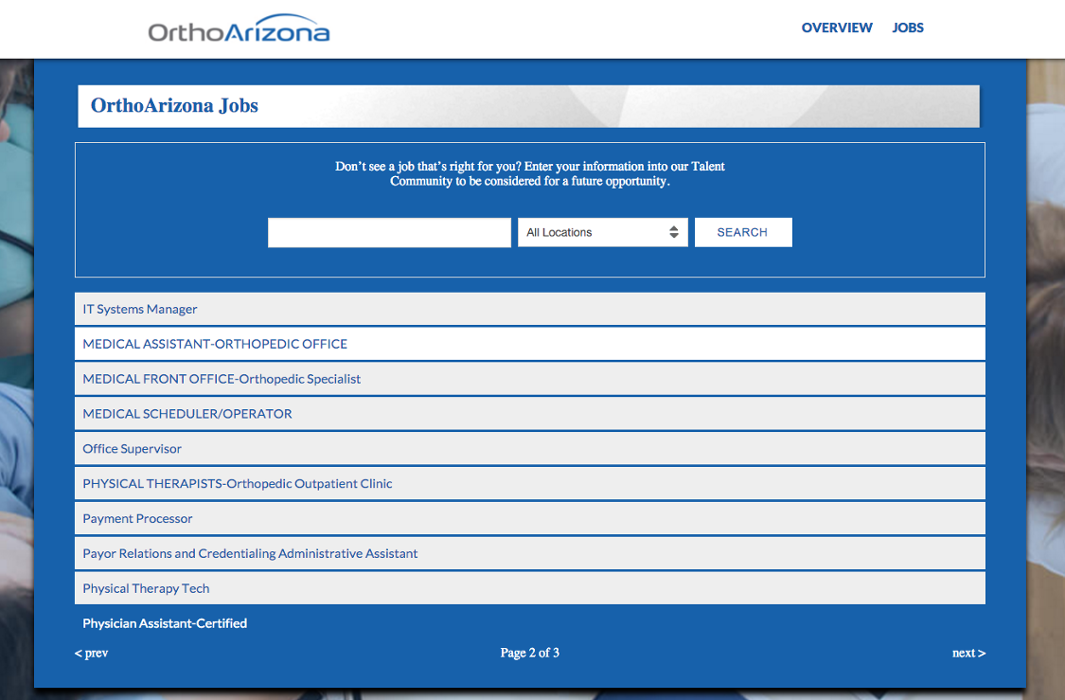 Perfectly Positioning Applicants
Due to OrthoArizona's constant hiring needs, attracting more and better candidates was essential. However, each of OrthoArizona's practices could only see job applicants who applied to their specific location because job seekers couldn't submit their resumes to the company in general. This made it increasingly difficult to properly place candidates and share resumes.
To resolve these issues, Recruiting.com integrated a widget into OrthoArizona's career site that enables job seekers who are interested in the company to easily submit their resumes to a general Talent Community. Administrators at every OrthoArizona practice can visit the Talent Community on the CRM system to review resumes and explore additional candidates from all over the country.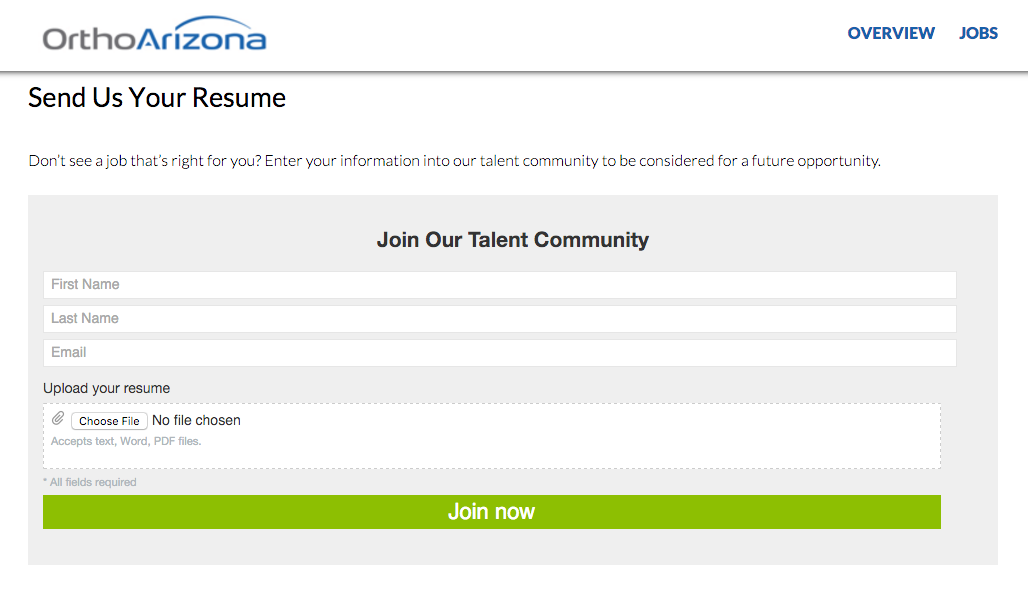 Why it worked: OrthoArizona currently has over 5,000 candidates in its Talent Community, and this number is still growing. The company has successfully interacted with and hired candidates within their Talent Community too, especially when there is a need to fill a position quickly. The Talent Community also allows OrthoArizona's Human Resources department to help job candidates determine which practice and role is best for them if they aren't sure which position to apply for. By giving OrthoArizona the ability to play match-maker, the company and the employees benefit.
The End Result
A few months after the launching of the career site, OrthoArizona's recruiting and hiring practices were substantially transformed for the better. Now job seekers can view and apply to all of OrthoArizona's job postings on the company's career site, as well as gain insight into the company's unique culture and benefits.
And with the CRM's centralized platform, along with the shared Talent Community, each of OrthoArizona's practices can finally recruit together while still operating separately. As a result, every location is posting more jobs and reviewing more applicants than ever before–allowing for more efficient and effective recruitment. Due to its improved recruitment practices and excelling team, OrthoArizona can treat more patients and give them the pain-free lifestyles they deserve.
Want to see it for yourself? Check out the career site for OrthoArizona.
---
Request a call from Recruiting.com