Transitioning to Proactive Recruiting in Private Practice
Entrusted with the physical, emotional and social health of children from birth through adolescence, it takes more than credentials to become a loyal and trusted Pediatrician. A commitment to excellence, coupled with a strong sense of community, encompass the makings of an ideal primary healthcare provider.
But, it's not only up to the doctors themselves to follow through on the mission. It takes an equally committed and compassionate staff to provide a world-class pediatric experience for doting parents and their beloved children.
As one of the oldest and most respected pediatric practices in the United States, Pediatric Associates (PA) knows this all too well. Since opening its doors in 1955, PA has expanded to more than 27 neighborhood locations. As an organization that prides itself on providing the highest quality of care and patient satisfaction, Pediatric Associates wanted to ensure its mission remained consistent despite its rapid expansion and growth..
PA turned to Recruiting.com to find candidates who align with its mission so that it can continue providing the best services possible to its community.
"We've had so much success with our new career site that we built a separate site just for providers and physicians—a place where they can go and see why they should leave where they are and come work for us."
Here are some of the changes Recruiting.com implemented to make the transition effective:
Switching to Proactive Recruiting
Before partnering with Recruiting.com, Pediatric Associates exclusively used traditional recruitment methods to meet its talent needs. The private practice relied on job postings to a national job board in order to fill each open position. Recruiting.com showed Pediatric Associates how to attract more qualified healthcare professionals by leveraging an engaging career site that allowed the practice to share its employment brand through unique content and integrated recruiting videos.

Why it worked: The previous strategy only enabled PA to recruit once a position had opened. While the practice had success with this strategy in the past, it wouldn't be sufficient for its high-growth future. "When I first reached out to Recruiting.com, we were only recruiting through job boards," Caruso says. "It was a new adventure working with Recruiting.com to build our own career site." By working with Caruso and learning about Pediatric Associates' unique recruiting challenges, Recruiting.com was able to develop a comprehensive strategy that helped the practice reach its recruitment goals.
Implementing Candidate Management
Caruso's team was used to tracking applicants manually, but as the company grew, a need for automated systems was imperative. With Recruiting.com's robust candidate relationship management (CRM) system, Caruso now manages her prospects to proactively build a candidate pipeline. Now, when PA expands its services to new locations, it can rely on a database of qualified leads to help staff its practices.
Why it worked: The Recruiting.com dashboard provides recruiters with access to key recruiting analytics. Now, Pediatric Associates can make better investment decisions when allocating it budget dollars. "We did everything manually before we worked with Recruiting.com," Caruso explains. "Now, we can track everything. We know how many candidates are coming to the career site every week, every month, every year. And the numbers are jumping. We're getting more top-notch medical assistants and front office candidates than ever before."
Attracting the Right Candidates
Meeting growing staff needs, while maintaining service standards, was a top priority for Pediatric Associates. Knowing this, Recruiting.com implemented a career site that is optimized for search visibility to help PA attract more of the candidates it's actually looking for. Unique job pages and targeted employment videos help bring in candidates who are searching for relevant terms.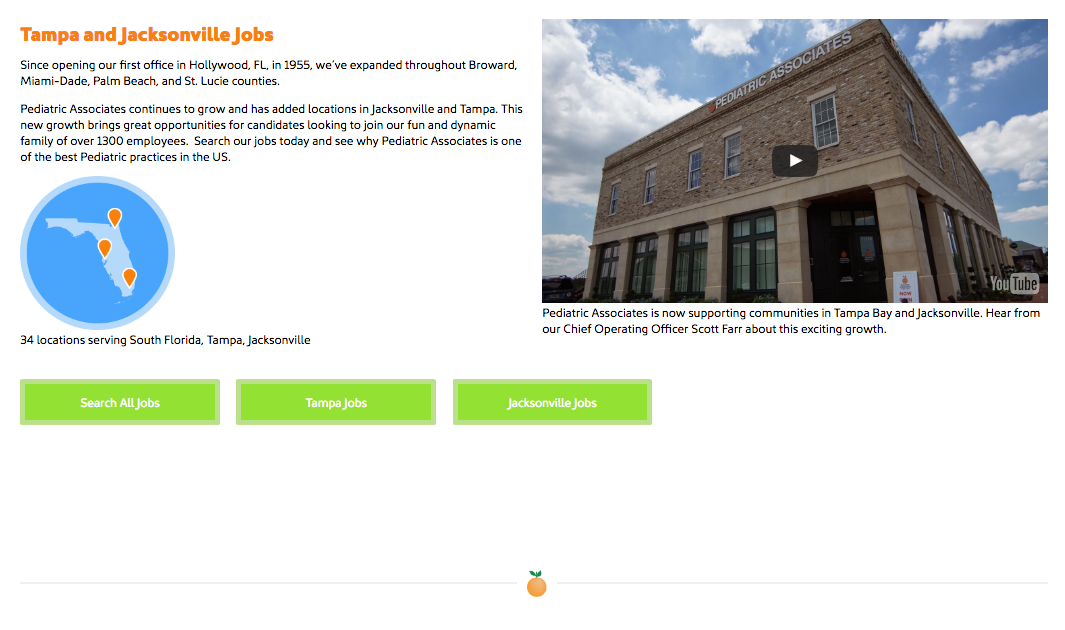 Why it worked: Since implementing Recruiting.com's solutions, Pediatric Associates has seen tremendous results for its recruiting. Caruso says, "It's made a big impact on the organization. Our career site is an incredible instrument for recruiting candidates in the pediatric field."
The End Result
Based on the incredible results Pediatric Associates has seen so far, Caruso and her team are already looking for ways to expand their recruiting efforts with Recruiting.com. Caruso says, "We've had so much success with our new career site that we built a separate site just for providers and physicians—a place where they can go and see why they should leave where they are and come work for us."
Want to see it for yourself? Check out the career site for Pediatric Associates.
---
Request a call from Recruiting.com