Law Firm's New Career Site Shares Brand and Improves Candidate Experience
Roig Lawyers is not your typical law firm. With its unique company culture and distinct business approaches, this multi-practice Florida litigation firm stands out from the rest. In addition to offering unparalleled legal representation and cutting-edge legal advice, the Roig Lawyers team is personable, supportive, and wholeheartedly committed to the company's "people first approach."
Roig Lawyers' people first philosophy reaches every area of its organization. So naturally, the company cares about its employees as much as it cares about its clients. Roig Lawyers works to provide its team members with the tools they need to achieve greatness and exceed in their careers, while ensuring that they are happy and engaged along the way.
However, even with an extraordinary company culture and employment brand, Roig Lawyers faced the challenge of sourcing candidates with specific skill sets. When Sr. Staff Recruiter Cynthia Sedlacek joined the team, she recognized that there was an opportunity to enhance the effectiveness of the company's applicant tracking system (ATS). She reached out to Recruiting.com for help, and a few months later, Recruiting.com launched the new Roig Lawyers career site—providing the company with a more effective recruiting process.
Here are some of the changes Recruiting.com implemented to make the transition effective:
Proactive Recruiting Made Possible
n Roig Lawyers' previous careers page, job seekers could only submit an application by applying to a specific job. Fortunately, Recruiting.com offers a tool that supports these interested job seekers: the Talent Community widget. When job seekers want to work for the company but don't see any available positions that match their skills, they can still submit their resume to the Talent Community—allowing recruiters to connect with them.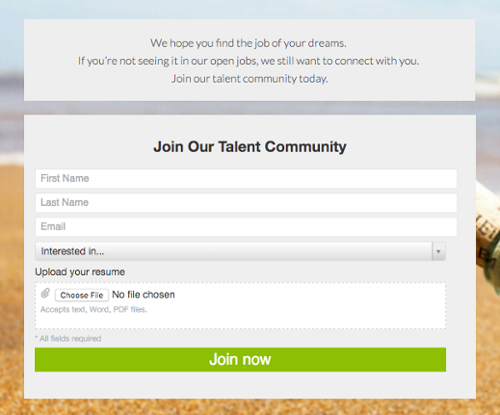 Why it worked: By giving job seekers the option to submit their resumes to a Talent Community, Roig Lawyers is able to capture and review more candidates. Even if there isn't a position readily available for these candidates, the recruiters can use the Talent Community to proactively recruit and build relationships with both active and passive job seekers. Then, once a new position becomes available, the recruiters can source their Talent Community to fill the position faster.
"In today's market, it is all about the candidate experience. You need a tool that will engage candidates so that you have the opportunity to build a relationship with them. I believe Recruiting.com enables us to do just that."
Recruiting More Mobile Job Seekers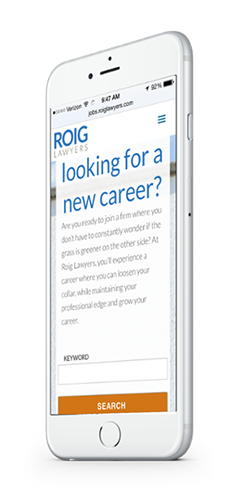 Knowing that nearly 50 percent of today's job seekers are searching for jobs on mobile devices, Roig Lawyers sought a solution that catered to this audience in order to maximize its candidate reach and recruitment results. So Recruiting.com built the Roig Lawyers career site mobile responsively to ensure that it provides a full career site experience across both desktop and mobile devices.
Why it worked: Now that Roig Lawyers' career site is mobile optimized, mobile job seekers can easily engage with the career site, review available positions, and apply to jobs. Today, approximately 1 out of every 4 candidates are viewing Roig Lawyers' positions on a mobile device.
Creating an Integrated CRM
Prior to working with Recruiting.com, the firm did not have a fully functional, easy-to-use and integrated ATS for its job seekers and recruiters to use. Fortunately, by partnering with Recruiting.com, job seekers can now easily apply to Roig Lawyers' positions through the career site. The law firm's recruiters also have access to the integrated Recruiting.com Candidate Relationship Management (CRM) software, enabling them to easily review and manage jobs and applicants.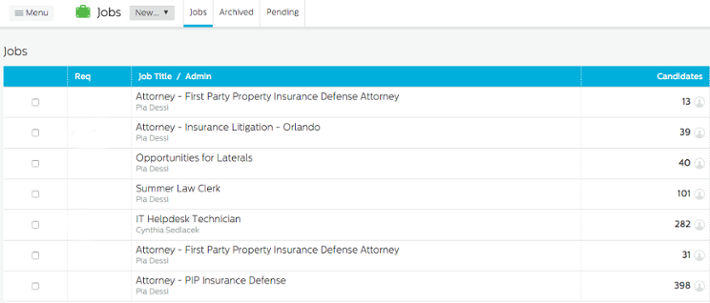 Why it worked: Now candidates stay on the career site longer and apply with ease. As a result, the company's employment brand experience is more seamless and positive for job seekers. The Recruiting.com software also gives Roig Lawyers' recruiters easy access to source, message and track candidates—making the experience better for recruiters and hiring managers as well. "It is so easy to use the Recruiting.com CRM, and it is very efficient," Sedlacek explains. "The learning curve is minimal, and the software is highly intuitive."
The End Result
Now that Roig Lawyers has an updated and improved career site, more candidates are discovering and interacting with the company's unique employment brand. This is translating into more resumes and candidate interest, especially thanks to the new career site's simple and responsive application process. During their interviews with Roig Lawyers, many candidates now mention that the application process is seamless and easy. The recruiters at Roig Lawyers are also very happy with their user experience.
"I have worked with a lot of recruitment software programs, and some were very good, but none of them do what Recruiting.com does. The CRM allows you to create that positive candidate experience that's especially important now, and that's why we decided to work with them."
Roig Lawyers is now better equipped to build its team for the future, enabling the law firm to focus more on its people and less on its recruitment processing. Ultimately, due to Recruiting.com's employment support and guidance, the company's powerful people first approach is even more evident and true.
Want to see it for yourself? Check out the career site for Roig Lawyers.
---
Request a call from Recruiting.com